One half of TikTok's secret sauce: the hyper-personalized algorithm. The social media app serves users an endless stream of bite-size video clips, encouraging you to double-tap your favorites until it learns your tastes to an almost scary-precise degree—which means it filters out what it "thinks" you "don't" "want" to see anyway. The other main ingredient? Copying. As soon as a dance challenge or a catchy sound or a funny story gains a bit of traction, it can spawn hundreds to thousands of copycat videos in a week, making it almost impossible to figure out who started the trend in the first place.
Take, for example, one of the biggest TikTok trends of 2020: the "Renegade" dance. Most people credited the dance to TikTok star Charli D'Amelio—until the New York Times reported that the internet-famous dance was actually created by Jalaiah Harmon, a 14-year-old Black girl from Atlanta. Not getting credit for starting a social media trend may not seem like a big deal, but in 2021, online views translate to IRL cash. Charli, who currently has 79.9 million followers on TikTok, has already signed deals with major brands like Hollister, Hulu, and Dunkin' Donuts—so where does that leave the Harmons of the app?
For Black TikTokers, the path to the same delightful moments is lined with countless obstacles—a biased algorithm, "muted" posts for no apparent reason, blatant harassment from other users, and, yes, not getting credit for their original ideas. In June 2020, TikTok recognized this unfair treatment in a letter, stating it was sorry if anyone "felt unsafe, unsupported, or suppressed" while also promising to "promote and protect" diversity on the platform. Now, eight months later, Cosmopolitan spoke to three Black beauty-content creators about their experiences on the app—and whether or not TikTok has kept its word.
Brinkley Garner, @Its.Brinkley, 274.4K followers
If Brinkley Garner had listened to a man, she probably wouldn't be in this story. In May 2020, after making a few TikTok videos that never took off, she noticed a new trend: people showing off their jawlines. So she filmed one herself. "All I did was turn my head to the side," she says. She asked her boyfriend what he thought. His response? "No, you shouldn't post that." She ignored him and threw it on her feed anyway. That video became her first TikTok to go viral.
Garner seized her 15 seconds of Tiktok fame, recreating celebrity hairstyles and hair routines where she would shape her 3b/3c curls into different styles. "I basically transform my hair from what I would call dusty," she says. As her follower number climbed, brands soon took notice.COSMOPOLITANGet access to *all* of Cosmo
When TRESemmé came calling a few weeks after Garner first posted her jawline video, she thought it was a scam. "I didn't think it was going to be real," she says. "They they set up a meeting, and it turned out to be legit. I was so surprised." But even with the TRESemmé cosign, Garner was still dealing with the same struggles that were plaguing other Black creators on the app.
Around August, as summer was coming to a close, Garner noticed a dip in her views, even though, content-wise, she hadn't changed anything. "It doesn't make sense to me, because if I have 200,000 followers, they should be seeing my stuff, right?" she says. "But sometimes, I'll get less than 5,000 views, which just doesn't add up." The downward slide in views led Garner—who can spend up to four hours making one video—to feel discouraged.
"I thought, Oh, maybe this isn't what I'm supposed to be doing anymore," she says. "Maybe I should stop." But instead of quitting, Garner decided to take her talents to Instagram, where she noticed a confusing trend. She'd film a video, post it to both TikTok and Instagram Reels (a short-form video feature on IG), and then consistently get more views on Reels. "I remember one of my videos didn't do so great on TikTok," she says, "and then it got a million views on Instagram." The disconnect was huge.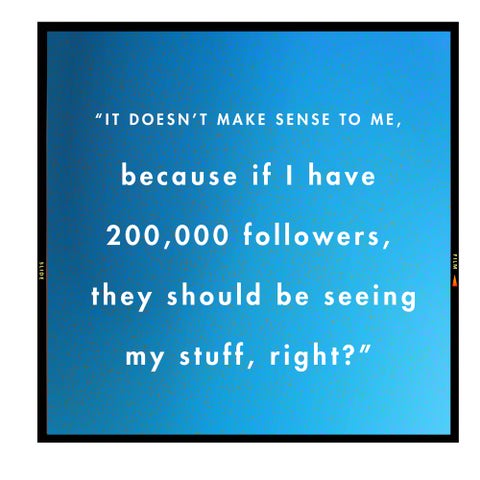 It's just one of the many frustrating situations Garner has had to deal with on TikTok. During the Black Lives Matter protests last year, Garner started receiving racist comments on her videos. I asked Garner if she thought there was a difference in how white content creators and Black content creators are seen in the app. "If you look at all the top TikTok creators, in terms of views and followers, they're all white," she says. "They're the ones making all the money, no matter what scandal they get themselves into."
Garner doesn't see herself leaving the app anytime soon though. She still has hope that TikTok will start showing and promoting diverse content to all its users. "For some reason, a lot of people have the idea that if you're white, you can't watch Black beauty videos," she says. "I kind of get that line of thinking when it comes to hair, but with makeup or skincare, the tips you learn aren't skin-color specific—they're for everyone."
Déja Zhane, @Deja.Zhane, 203K followers
According to Déja Zhane, the first rule about being shadow-banned on TikTok is that you don't talk about being shadow-banned on TikTok. "Even if my content isn't performing well and I feel like I'm being shadow-banned, I'm not going to talk about it on my page because I don't know if it'll make things worse," she says. But Zhane doesn't think Black content creators are treated any differently on TikTok than they're treated off TikTok. "I'm Black on TikTok, and I'm Black outside of TikTok," she says. "So the things that we're experiencing, it's nothing new, and it's never stopped me from going after my dreams."
Zhane now lives in Texas, by way of Chicago, where she was homeless for a few years. There are different forms of homelessness, Zhane tells me: "I wasn't begging in the streets, but I didn't have a stable place to stay." She couch-hopped, rotating through her friend circle, until it became unsustainable. Her relationship with her parents was, and still is, a bit rocky, but they flew her down to Dallas, where she started working at a local Sephora store. And then the pandemic happened. When Zhane was let go, she quickly turned her attention to TikTok.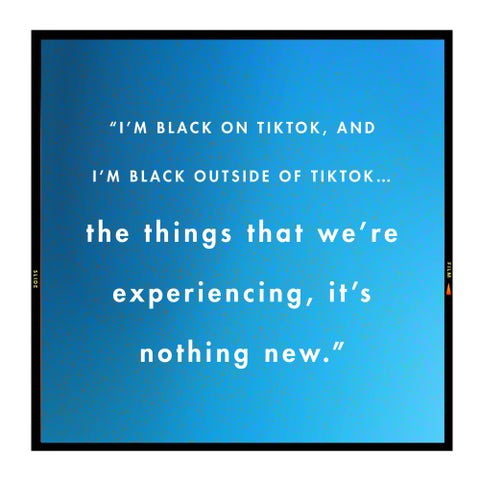 Even through a computer screen, Zhane's personality is captivating. It makes sense that her first TikTok video that went viral with more than 200,000 views was one of her telling a story while transforming into a wife from the Netflix show Narcos. Zhane's charismatic energy also drew in NYX Cosmetics, which, after seeing a video where she lines her lips with eyeshadow, asked her to participate in a campaign.
When I asked Zhane if she had any help navigating brand deals and contracts, she said no. "I'm still learning—I just don't want to be used," she says. "A brand reached out to me about usage rights and I had no idea what that meant, so I started watching all these YouTube videos to try and make some sense out of it."
Zhane is a Virgo Sun (aka a perfectionist), but she realizes that she can't control everything, including how people respond to her content. That's why she doesn't spend too much time thinking about who's stealing her video ideas or what to say back to someone who leaves an offensive comment on her page.
And it's also why she's not holding her breath for TikTok to enact any significant change on the platform. "The internet gives people courage to say how they really feel or think, and they know that there won't be any repercussions from it," she says. "Even if you report the video, TikTok would probably say, 'Oh, we don't see it as offensive.'" So what keeps Zhane on the app? Having a creative outlet. "I like making people laugh, I love the artistry, the editing; I love it," she says. "I want to bring my visions to life."
Makayla Did, @MakaylaDid, 980.4K followers
Fun fact: Rihanna knows that Makayla Did exists. About a year ago, during a TikTok event for Black creators, Did met some Fenty Beauty reps, who coyly mentioned they would be reaching out to her. Shortly after, Did was invited to be part of the first Fenty TikTok House. The house was an influencer's dream come true: ring lights, props for shoots, a never-ending stash of makeup products. The only requirement for the houseguests was to create content. "I really got to bond with the other girls in the house; we're all so similar yet unique in our own ways," Did says. "It was a really amazing experience—I mean, how many times do you get to say you've met Rihanna?"
In April 2019, after graduating college, Did was making music and trying to figure out her next step. "At first, I was like, I'm just going to put my music out there and hope for the best, but then I realized that before I did that, I really needed a platform," she said. So she went to TikTok. She started with one video in November 2019, which led to another video, which led to another and another, until she was fully committed to the app.
As Did's following grew, she became more involved with TikTok events that highlighted Black creators, including a Black Voices event in 2020, where she interviewed John Legend live on TikTok. Although they received a fair share of annoying comments during the interview, Did noticed even more comments (think: "Trump 2020" and "Why isn't there a white voices live?") on her page afterward. But, she says, the comments didn't really faze her.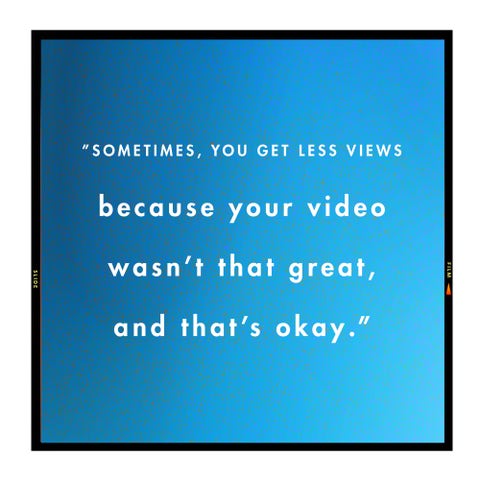 "People would ask me, 'How are you not commenting back to these people when you're doing your interview?' and I'm like, Girl, I was talking to John Legend. Do you think I care about these comments?" She also knows when to pick her battles and says that even if she doesn't comment on something, other people usually take care of it for her. "I don't feel like it's necessary all the time to fight everybody on the internet," she says.
Did's fans aren't the only ones who have her back—she's also lucky to have a team to support her, which isn't something many Black influencers can say. "Sometimes, brands don't take you seriously if you don't have an agent or a manager, or they think they can underpay you," she says. "But if you have that middleman, they think, Oh, okay, she's a little more serious; this person isn't playing games."
When I asked Did about the algorithm and Black creators receiving fewer views, she said it was a sticky situation. "I can't speak for the whole community, but I do notice it—although I don't think the algorithm's to blame every time," she says. "Sometimes, you get less views because your video wasn't that great, and that's okay."
Did is also more hopeful about the future of the app. She'll sometimes sit in on meetings with the TikTok team and other young Black creators to discuss how they're feeling about the app or whether or not they feel included. It's not easy, but Did thinks it's worth it. "As long as they're listening to us and listening to our voice and trying to make a change, we're on a good path forward."